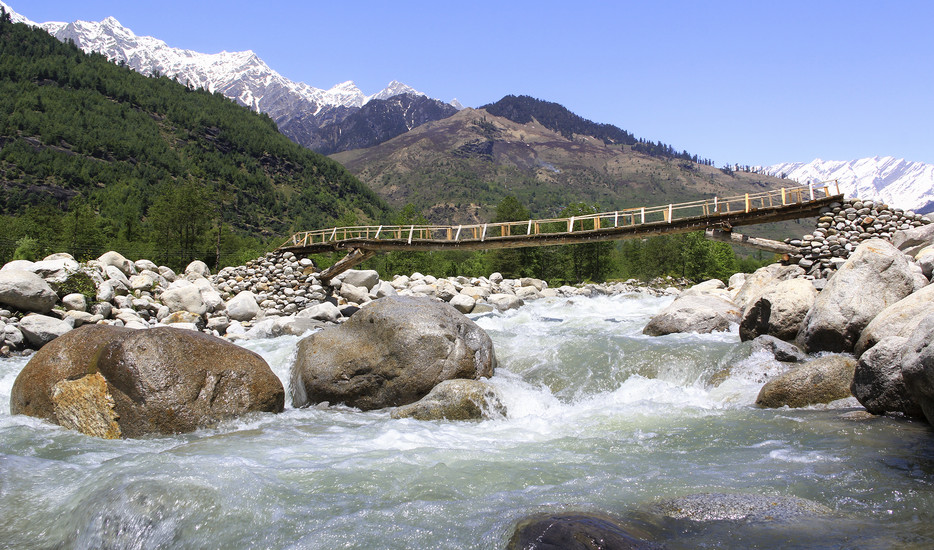 All of Himachal in 11 Days
Shimla (2) Manali (3) Dharamshala (2) Dalhousie (2) Chandigarh (1)
Surrounded by pine-clad mountains and spectacular views, Dalhousie is a gem of a hill station in India. Located in western Himachal Pradesh, it has a quaint and laid-back atmosphere. The scenery is very vivid with flowering rhododendrons and dense forests filled with pines, oaks and deodars. The town was established by the British as a summer retreat for their officials. Dalhousie is dotted with beautiful buildings sporting colonial architecture, reminiscent of the British era, such as St. Francis' s Church, St. Patrick' s Church and St. Andrew' s Church. With serene environs and majestic snow-capped mountains, Dalhousie refreshes your senses. Subhash Baoli is a quiet sanctuary surrounded by towering trees, named after ' Netaji' Subhash Chandra Bose, who spent a lot of time here in meditation. Get a glimpse of life in the jungle at Kalatop Wildlife Sanctuary. Take an adventurous trek to the top of the picturesque Dainkund Peak. Get a few souvenirs from the Tibetan Market to commemorate the trip to Dalhousie.
Detailed Day Wise Itinerary
Day 1 – Shimla (Drive from Chandigarh to Shimla (120 km/approx. 4 hours)
In the morning, begin your drive to Shimla. The capital of Himachal Pradesh, Shimla is often referred to as "Queen of Hills." It was the capital of Punjab till Indian independence in 1947. Shimla, situated at 2200 meters above sea-level was used by the British as the capital during summers. It boasts of many structures with a colonial look and feels. It is frequented by tourists all round the year that come to enjoy its serpentine roads, majestic snow capped peaks and thick forest cover. It remains a favorite of honeymooners are well.
Upon reaching Shimla, check-in to your designated hotel and enjoy the remaining evening at leisure. There is an array of interesting spots you can visit which include Jakhoo Temple, Kali Bari Temple and Himachal Museum and Library. The Mall road also makes for a great getaway for shopping and eating alike.
Later, return to the hotel and get a good night's sleep.
Day 2 – Sightseeing in Shimla
Today you can choose to go for a day long sightseeing tour of Shimla. But we also suggest a day-long excursion to Kufri, a small but charming hill station at a short distance from Shimla.
Kufri is the epitome of subliminal beauty and enjoyable climate. It witnesses throngs of tourists every year most of who visit to indulge in an array of adventure sports such as trekking, hiking, and skiing. Another absolutely exciting thing to do is take a mule ride to the Mahasu Peak. Those who have the stamina can even trek it. The highest peak in the region, Mahasu, offers splendid views of the Himalayas and you can see beautiful places like Badrinath and Kedarnath.
After this, return to the hotel and relax for a while. Hit the Mall Road in the evening where you can enjoy its bustling activity and many roadside shops. Enjoy its old world charm with buildings with colonial structures. Thereafter, return to the hotel and get a good night's sleep.
Day 3 – Manali Time! (Drive from Shimla to Manali (250 km/approx. 6 hours))
Today after breakfast, you check-out of the hotel to carry on to Manali. Another beautiful hill station in Himachal Pradesh, Manali is known for its endearing landscape and of course the gushing River Beas that runs through it.
Upon arrival in Manali, check-in to your hotel and rest for a while. In the evening, you can spend time in exploring the nearby spots. Later return to your hotel and retire to your room for a good night's rest.
Day 4 – Trip to Rohtang Pass ( On Direct Payment )
In the morning, gear up for a stint with one of the beautiful spots, Rohtang Pass. Enjoy divine views of the mountains, glaciers, forests, and rivers.
After enjoying stunning views at the Rohtang Pass, return to your hotel and rest for some time. Go for a stroll on the Mall Road and later return to the hotel and enjoy a comfortable overnight stay.
Imp Note – The visit is subject to premission by NGT (National Green Tribunal). Alternate sight-seeing will be provided in case of any deviation!
Day 5 – Sightseeing in Manali
After breakfast in the morning, leave for a day-long sightseeing tour of Manali. Dotted with beautiful Deodar and Pine trees, fruit orchards, Manali offers many adventurous activities like trekking, skiing, and mountaineering. For those looking for the ultimate adrenaline rush, these activities are a must do.
For those with a spiritual bent of mind, it may be a good idea to visit some famous temples in the area. These include the Hadimba Temple, Old Manali and Manu Temple and Vashisht Temple.
In Old Manali, you will find old-style Pahari houses with wooden balconies.
After exploring the local attractions of Manali, enjoy your evening at leisure. Stay overnight at the hotel.
Day 6 – Drive from Manali to Dalhousie (350 km/approx. 9 hours)
In the morning, embark on a road journey to Dalhousie. A quaint and charming hill station, Dalhousie is positioned across five hills (Potreys, Tehra, Kathlog, Bakrota, and Balun). It has been named so after a British Viceroy Lord Dalhousie and served as a summer retreat for many British officers and bureaucrats. The town is rich in old British history and has many bungalows and churches with colonial structures.
Upon reaching Dalhousie, complete the check-in formalities at the hotel and rest. Later in the evening, visit some nearby attractions and markets. Come back to the hotel and enjoy a comfortable overnight stay.
Day 7 – Sightseeing in Dalhousie
To explore the best of Dalhousie, go on a full-day sightseeing tour in the morning.
Panchpula, the first stop, is home to many water springs, the most well known being Satdhara, known for its medicinal properties. This place also houses a monument built in the memory of freedom fighter, Sardar Ajit Singh.
Next, stop at the Subhash Baoli, a beautiful spot where Netaji Subhash Chandra Bose, a famous freedom fighter spent some time in 1937. A popular picnic spot, the places offers majestic views and has proper seating arrangements.
Later, pay obeisance at the Bhulwani Mata Temple at Bara Pathar. Finally stop by witnessing the stunning views of Bakrota Hills.
After this interesting day of sightseeing, return to the hotel and get a good night's sleep.
Day 8 – Drive from Dalhousie to Dharamshala (120 km/approx. 4 hours)
In the morning, embark on a road journey to Dharamshala. Nestled in the Dhauladhar ranges of Himalayas, Dharamshala is home to gorgeous snow-covered peaks and thick forest covers. It offers a fine mix of both Indian and Tibetan culture as it serves as a home to the Dalai Lama and the Tibetan Government in exile. Upon arrival to Dharamshala, check-in at the hotel and enjoy your evening at leisure. Stay overnight at the hotel.
Day 9 – Sightseeing in Dharamshala
This morning, check-out from the hotel and embark on a sightseeing tour of Dharamshala. You will get to see many attractive sites in this beautiful place including colorful temples and gompas, Kangra Museum, Dal Lake, St. John's Church, etc. Visit St. John's Church that is built in the neo-Gothic style and is surrounded by pine, fir and deodar trees. A monument inside the church is dedicated to Lord Elgin who was the Viceroy of India during the 19th century. Learn about the traditional system of Tibet for preparing medicinal pills at the Tibetan Medical Centre. At Kangra, also see the Art Museum that stores artifacts belonging to the 5th century. After exploring Dharamshala, return to the hotel and relax. Enjoy remaining evening at leisure and stay overnight at the hotel.
Day 10 – Drive from Dharamshala to Chandigarh (250 km/approx. 6 hours)
The next morning, get ready to drive from Dharamshala to Chandigarh. A truly well-planned city, Chandigarh is very well known across India for its well-laid roads and landscape. Located in the foothills of the Shivalik range in the Himalayas, it gets its name from the Hindu goddess – Chandi. Best known for architectural wonders designed by renowned architects, such as Le Corbusier, Maxwell Fry, Pierre Jeanneret and Jane Drew Chandigarh has lots of shopping arcades and great monuments. Upon arrival complete you check-in formalities at the hotel and rest for some time. Afterwards, you can visit places such as Sukhna Lake, Capitol Complex, Rock Garden and Open Hand. Sukhna Lake is a man-made wonder that offers truly tranquil and beauty environs, and one can indulge in sports like skiing, yachting, and boating. The Rock Garden has been built by former road inspector and artist Nek Chand from urban and industrial waste. An open-air exhibition hall, it holds items made from auto parts, porcelain, metal wires, mudguards, and frames. Capitol Complex, a government building, designed by Le Corbusier was earlier the seat of the Punjab Government. Today it serves as headquarters for both the governments of Haryana and Punjab. Open Hand, a 50 ton, and a 14-metre high structure was also created by Le Corbusier. It is made from metal sheets and symbolizes peace and unity. Alternatively, you can visit the famous shopping arcade of Sector 17 and indulge in some retail therapy. After this exciting day out, return to your hotel and sleep overnight.
Day 11 – Depart Chandigarh
After breakfast at the hotel,  check-out of the hotel and take your return journey.
Tour Ends with sweet memories with TRAVEL INDIA VACATIONS
Inclusions
Stay on twin sharing basis
Meals as per hotel plan
All transfers and sightseeing as per the itinerary in an air-conditioned vehicle (except in the hills when the air-conditioner will be switched off)
All toll taxes, parking fees and driver's allowances
All applicable hotel taxes
Imp Note – Rohtang Pass visit will be subject to NGT permission (National Green Tribunal). Alternate sight-seeing will be provided in case of any deviation (Only for Packages which include MANALI)
Exclusions
9.0% government service tax
Anything not mentioned under 'Package Inclusions'
All personal expenses, optional tours and extra meals
Camera fees, alcoholic/non-alcoholic beverages and starters
Vehicle service on leisure days for sightseeing not included in the itinerary
Medical and travel insurance
Cost incidental to any change in the itinerary/ stay on account of flight cancellation due to bad weather, ill health, roadblocks and/or any force majeure beyond our control
Payment Policy
Advance Booking Fee
30 days or more before date of departure: 25% of total cost
29 – 20 days before date of departure: 50% of total cost
19 days or less before date of departure: 100% of total cost
Important: The booking stands liable to be cancelled if 100% payment is not received less than 20 days before date of departure.
Cancellation Policy
If you Cancel your Holiday
You or any member of your party may cancel their travel arrangements at any time. Written notification or an e-mail to that effect from the person who made the booking must be received at our office. The cancellation charges applicable are as per the published cancellation policy below:
Cancellation charges per person
30 days or more before departure: 25% of total cost
29 – 20 days before departure: 50% of total cost
Less than 19 days before departure: 100% of total cost
If we change or cancel your holiday
We do plan the arrangements in advance. It is unlikely that we will have to make any changes to your travel arrangements.
Occasionally, we may have to make changes and we reserve the right to do so at any time. If there are any changes, we will advise you of them at the earliest possible date.
We also reserve the right under any circumstances to cancel your travel arrangements by assigning reasons to you.
If we are unable to provide the booked travel arrangements due to reasons beyond our control (e.g. bad weather):We shall first try to offer alternative dates for the tour if the tour hasn't already commenced.
If the tour has already commenced, then we shall refund the booking price/fee charged to you on a pro-rata basis depending on the portion of the tour utilized by you.
In all circumstances, however, our liability shall be limited to refunding to you the price we charged as tour fees.
If you want to change your holiday plan
After confirmation of services, if you wish to change your travel arrangements in any way (e.g. your chosen departure date or accommodation), we will do our
utmost to make these changes but it may not always be possible. Any request for changes must be in writing from the person who made the booking. All cost
incurred due to amendment will be borne by you.
If you have a complaint
If you face any problem during your holiday, please inform the relevant supplier (e.g. your hotelier, transporter etc.) and/or our representative immediately
who will endeavor to set things right. If your complaint is not resolved locally, please follow this up within 28 days of your return home by writing to us,
with your booking reference and all other relevant information. However, please be advised that while we are happy to assist you in the redressal of your
complaint, if any, we will be able to extend only our best efforts in managing/coordinating your complaint with the respective service provider. All third
party service providers are independent contractors who are at no time under our control or supervision.
All booking vouchers and tickets will be provided 3 days before departure.